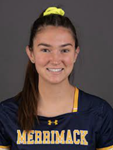 Lacrosse Experience:
Kirsten was a 4 year starter at Nashua High School South serving as both a junior and senior captain while earning All-State honors each year. She also lettered in field hockey and basketball, being awarded with the 2020 Nashua High School South Female Athlete of the Year award. Kirsten has competed at the Division 1 level, playing for Merrimack College for her first two years of collegiate lacrosse.
Favorite Moment in the Game:
My favorite moment in lacrosse both as a player and a coach is when everything clicks. To be on the field and to have everyone understand what's happening and to have that translate into a play in the game is such a great feeling! As a coach, when the players finally understand what you have been coaching them up to do, and they do it without you asking, is an amazing opportunity as well. To see them get so excited about an accomplish is rewarding!
About Kirsten:
I currently live in Nashua NH and when I am not coaching or playing lacrosse, I love spending my free time out on the boat at our lake house in Maine!
Quote to live by:
"The wolf at the top of the hill is never as hungry as the wolf climbing the hill"
Contact: kmissymac@gmail.com